Our destinations
CANGGU
In Bali there are plenty of boards for rent or for sale at very cheap price. But be aware most of the boards have been damaged or snapped many times, and painted many times. Pay a special attention to the stringer when you rent a board. At rentasurfboard.com, we don't rent any broken board, once a board is not in good condition anymore, we give sell it or give it to local kids. All our boards are in good condition and you have the possibility to swap your board if you are not happy with your first choice.
To book, please select your dates and kind of board you are looking on the left part.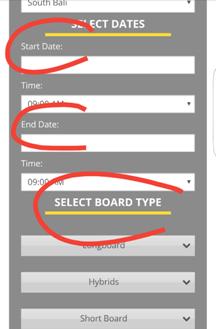 Please note it's a "book in advance" website, means boards have to be booked 2 days in advance. if you need a board in less than 48 hours, please use the contact form directly.


We like boards, we like high tech and nice shapes, that's the reason why we offer the best brands, innovative products like the carbon cybertoys by Mike Woo, bamboo core, Hypto Krypto... All the boards we like and try to caters all the tastes.

We are all surfers and we know how it can be frustating not to have the right board to enjoy the best waves of the world. With us you can relax, you will always get a quality board.
Canggu (North of seminyak) is the new trendy place for surfing in Bali, with 3 beaches you have access to 3 complete different athomsphere :
Berawa beach : powerful beach break with many different peaks, works better mid tide.
Echo Beach : Most iconic wave of Canggu with a few beach breaks and reef break of high reputation. Take off quite fast and barrels wait for you. Right handers available, which is quite a good thinh to know in lefthanders paradise.
Batu Bolong : (Old Man) The spot for longboard and mini malibus. Mellow wave on a reef, slow and very easy. Right and left handers available. A bit crowded but always enough space to catch a few.
How to go there ? As there is no public transportation, best options are taxi or motorbike. (25 mn from airport)
For all surfers, wherever you stay in Bali, we can supply you the board of your choice . Our center offers drop off and pick up service. You won't even have to leave your room to get your surfboard.
20 USD if you stay in Nusa Dua, Uluwatu, Bingin, Dreamland, Balangan, Sanur, Keramas.
We also have second hands surfboards for sale with a buy back guarantee of 55%
Eventually you can have surf lessons or surf coaching all around the island.
Reef booties available for 3 USD a day, 15 a week.
We offer the best boards for rent and the largest assortment in Bali.
ps : Motorbike rentals with surf racks can be arranged with our center.
Useful links about your next trip to Bali :
Bali Ocean surf Surf lessons and surf guiding.
Indosurflife.com : plenty of information about surfing in Bali, swell forecats, activities, nightlife and plenty of useful tipes to make your surf trip in Bali a memorable one.